Comedy wasn't on Florida native Carl Rimi's radar until late in life by industry standards. Attending Nova Southeastern University to study Marine Biology, he discovered a new path in life almost by accident.
"I always thought of stand-up comedians as unicorns… how would you even become one of those? I had a side job doing promotional work at comedy clubs with a friend, and one night he had the idea to perform for three minutes on stage and see what happened. He ended up backing out, but it planted the thought in my head that this was something I could be great at. I didn't go up that night, but instead wrote down some material and went back a week later. After the first time appearing on stage, I was addicted. This was in the '90s and there weren't many open mic opportunities back then, but I was determined."
Realizing he was born with an entertainer's talent, Rimi quit school and traveled the country refining his act.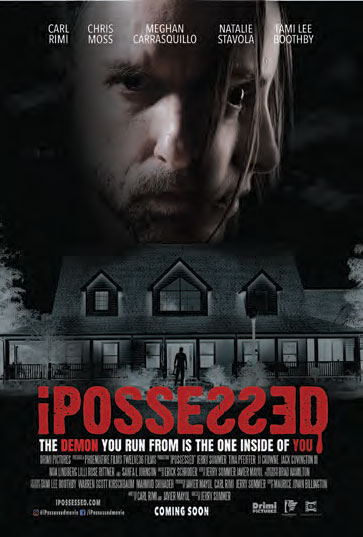 "I got a job performing stand-up on cruise ships and stayed for ten years. The work and pay were consistent, but my creativity was endlessly edited and stifled. I began drinking to forget the fact that I had sacrificed my potential for a paycheck. Getting sober was the hardest thing I've ever accomplished, and thinking I could do it on my own proved futile. Quitting cold turkey made every cell in my body hurt. I began seeing people that weren't there and felt like I might not pull through. Receiving professional help was the last step, but knew that whatever it took… I could not go backward. Writing saved me during that time period as it gave my life meaningful purpose. I was able to utilize the obstacles overcome to add layers of truth to my character in iPossessed… so I suppose it all happened that way for a reason."
Given the zeitgeist of present-day America, Rimi is willing to push the envelope but won't touch upon certain topics, namely politics or race.
"I don't like to be too divisive because you never know what kind of crowd you're going to have. The current attacks on comedians… things like this have always occurred, it's just now in the spotlight and draws more attention. At one of my sets this year an audience member tossed a knife at me, just lightly tossed… but it happens."
Rimi parlayed his now polished live performance abilities into on-screen acting, starring in eight feature films, including W.D.E.D. Dead in the Morning and Love and Hostages. Creating his own full-length picture was never far from the forefront of his mind, and Rimi has achieved that aspiration with the psychological thriller, iPossessed. Horror movies are a genre based on convention, scary figures that jump out and attempt to haunt your dreams or gory massacres that leave indelible marks in your brain. Rimi breaks through those typical frightening tropes and delves into the sometimes dark world of the human psyche. In iPossessed, he portrays Tad Volo, an army veteran who is suffering from post-traumatic stress disorder and purchases a farmhouse that lay off the beaten path.
What is disguised as a housewarming party for Tad, turns into a tormenting night, leaving each attendee grappling with powerful past memories, and their individual readiness to either face their shame or suffer the consequences.
Not willing to turn his stylistic visions over to Hollywood, Rimi did anything in his power to fund the ambitious undertaking himself. Hawking merchandise after shows and even selling his only form of transportation, Carl was committed to succeeding.
"I really wanted to finance my project without major studio investors, so I did what I had to, including getting rid of my car. It wasn't a Bentley… but it did afford me a gaffer."
Shot over the course of a month, primarily at The Barn at Paso Fino in Lake Placid, Florida, Rimi took on the responsibilities not only of head writer, but also producer, lead actor, and location scout.
"I started the process four years ago and went through several rewrites. Finally, in 2020 we were ready
to shoot, and covid shut down the process before it even began. During that time we did a final revision and removed all comedic aspects to center our attention on making a chilling feature, focusing strictly on the mind's behavior while struggling with a dissolving sense of reality. We set out to make not just a horror film, but something emotional that involves real issues while surrounding us in a supernatural environment. Ultimately I wanted to make a cool film that I would want to sit through and have never seen the likes of before. It's one of those pictures that you'll catch new details as you re-watch it… I love movies that are even better on the second viewing.
Rimi drew upon his own insight as well as in-depth research to bring his protagonist peak legitimacy.
"Hopefully the audience will feel some sympathy for my character while unsure of his true nature. I examined the nuances of military veterans coming home with
PTSD and studied documentaries to try and encapsulate their mindset. Additionally, I personally consulted with a veteran sniper for his expertise, who wound up taking on one of the main roles when the actor originally slated for the part fell ill. Choosing my cast took great thought as I cautiously maneuvered through the audition process to find perfect fits."
Beginning in May of 2022, iPossessed will be released for test screenings at various South Florida theaters, and Rimi has plans to submit to the well-known Indie Film Festivals, both stateside and internationally. He will also periodically continue to perform stand-up at South Florida Improvs.
"I plan on using this movie as a stepping stone for upcoming projects. I have several scripts in the works, and my goal is to continue developing high-concept films with mass audience appeal. My biggest takeaway from this process is to stop waiting around for someone else to make your dream happen, and just go after it yourself."
***iPossessed will have two test screenings locally at the Movies of Delray on June 14th and 21st, 2022.